Tsunrisebey Geocoins – Farbenpracht und Herzensbotschaften
von Ursula Grass (Wuselelfe)
Viele Geocacher sind nicht nur der Suche nach Schätzen in Dosen verfallen. Sie sind eingetaucht in die Welt der Geocoins, eine Welt der bunten Münzen und Metalle, die schon längst ihre ursprüngliche Bestimmung verloren haben, nämlich von Dose zu Dose zu reisen.
Während sich der eine für Piratencoins interessiert, ist der nächste damit beschäftigt, möglichst viele Eulen oder Schildkröten zusammen zu tragen. Coindesigner geben Metallen eine Form und gestalten sie bunt, schlicht, edel, glitzernd, witzig- kurzum nach eigener Phantasie. Viele Künstler haben es hier bereits zu internationalem Ansehen gebracht und kaum erscheint eine Geocoin, reißt sich die Coinerwelt um deren Besitz.
Eine ganz besondere Persönlichkeit in dieser Welt der bunten Metalle ist die aus Montana stammende Stephanie Witham alias Tsunrisebey. Gerade ihren Kunstwerken bin auch ich besonders verfallen, denn ihre Coins tragen fast alle ganz besondere Geschichten und Botschaften. Detaillierte, filigrane Muster sowie zierliche Nachrichten schmücken die harmonisch schimmernden Geocoins von Tsunrisebey.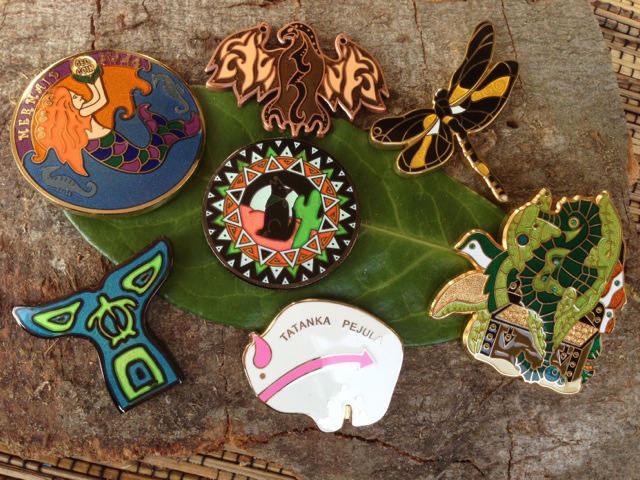 Einklang mit der Natur
Bestimmte Themen durchziehen ihr Werk: den Appell an die Verantwortlichkeit gegenüber Natur und Erde, welchen sie besonders durch ihre verschiedenen Earth-Turtles ausdrückt. "We do not inherit the earth from our ancestors, we borrow it from our children", so mahnt sie die Cacherwelt. Immer wieder fordert sie auf, besonders beim Geocaching behutsam mit den Schätzen der Erde umzugehen. Wenn man sich diese Coins ganz genau anschaut, erkennt man feine Symbole wie das Yin und Yang Zeichen, Sonne und Mond, Sterne und Blumen. Tsunrisebey spielt mit besonderen Strukturen der Metalle, welche durch durchsichtige Farben den Coins ein intensives und leuchtendes Aussehen verleihen.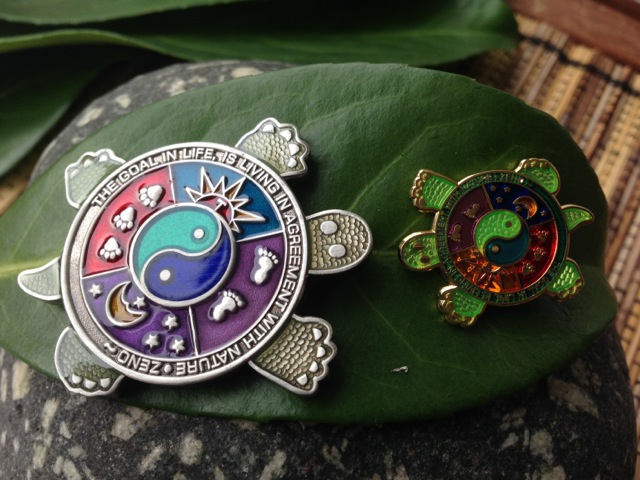 Engagement und Hilfsbereitschaft
Auf der Suche nach der Geschichte ihrer Geocoins stieß ich immer wieder auf eine äußerst engagierte Persönlichkeit, die in regelmäßigen Abständen ihre Coins zugunsten verschiedener Charity –Projekte spendete. Besonders trifft dies auf die Merlin's Falcon Geocoin, mit dem sie ein Falken-Aufzucht-Zentrum unterstützte, dem Lucky Koi "You rock it" mit Spenden für einen "Boys and Girls Club" und auch die Tatanka Pejula "Soldier" Edition zugunsten der Truppen. Als Hilfe in der Japan- Neuseeland Krise entwickelte sie eine "One of a Kind- Earth Turtle", die sie teuer ersteigern ließ. Für die Verwendung des Geldes bezog sie Geocacher in New Seeland und Japan mit ein.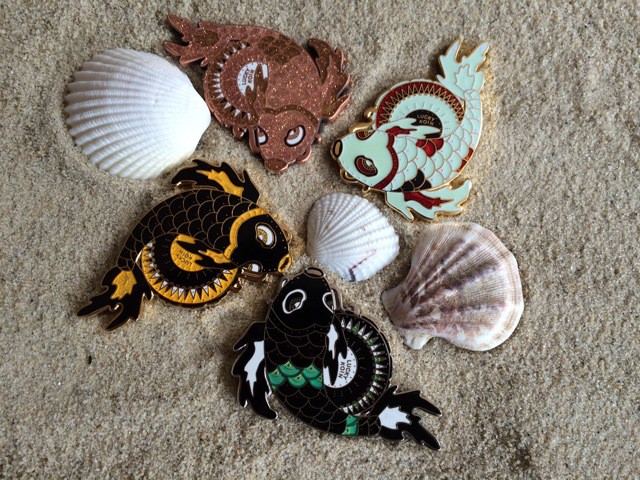 Verbundenheit mit den Vorfahren
Zentrale Motive der Tsun-Coins entstammen den Ureinwohnern der Region. Besonders gelungen ist hier die Gestaltung des Kokopellis, dessen Vorderseite mit alten indianischen Mustern verziert ist und auf dessen Rückseite man ein filigranes Pueblodorf erkennt. Auch ihr geflügeltes Pferd, Native Pegasus, ist geprägt von Mustern und Farben der Natives, was man auch an der Namensgebung für die verschiedenen Editionen erkennt.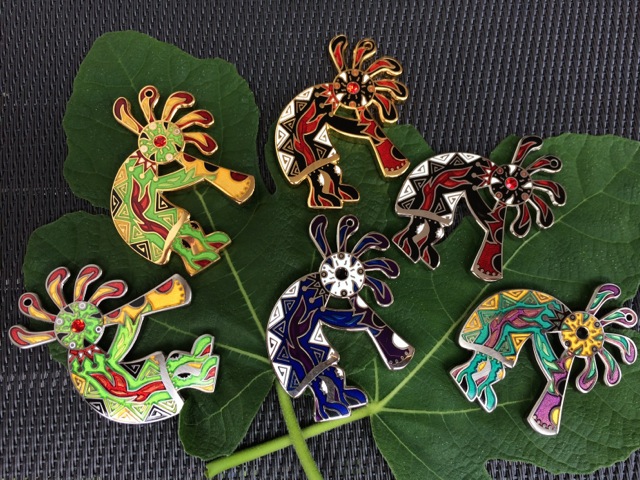 Was macht eigentlich die Coins von Tsunrisebey so lebendig?
Einerseits mag das an Stephanies Liebe zum Unvollkommenen liegen, denn so sieht sie auch die Natur. Ihr Motto "Das Vollkommene ist die Unvollkommenheit" macht ihre Werke so lebendig und reizvoll- sind sie auch alle von Hand gezeichnet. Lebendig macht sie auch ihre Geschichten und Botschaften. Ob es die Geschichte des kleinen Drachen Pax ist, der Geocaches nach Schätzen untersucht oder besondere Aufgaben, die sie bestimmten Gemmfarben zuschreibt. Ganz besonders sei hier auch Tatanka Pejula erwähnt, eine Coin die nicht trackable ist. Tsun leiht sich hier sowohl die Form des Weißen Büffels, als auch die Botschaft, die dem für die Indianer heiligen Tier zugeschrieben wird. Dem weißen Büffel wohnt eine besonders starke Medizin inne, die stark machen und heilen soll. Auch die Rückseite dieser Coin trägt eine besondere Botschaft " le mita cola- mein Freund" . Es ist die Coin mit der stärksten Botschaft und Tsun schreibt: Wer eine solche Coin erhält, weiß, dass er für einen anderen Menschen etwas ganz Besonderes ist. Tsun wünscht, dass die Coin niemals verkauft sondern nur verschenkt oder vertauscht wird.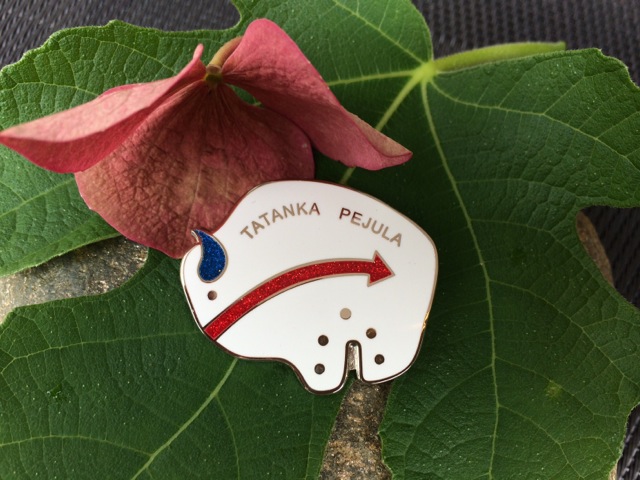 Rückzug aus der Welt der Geocoins
Zum großen Leidwesen ihrer Fans zog sich Tsunreisebey 2012 zu einer Schaffenspause, zumindest in Sachen Geocoins, zurück.
Stephanie suchte einen neuen Arbeitsschwerpunkt im Bereich des Schmucks und verwendete hier ihre Coindesigns zur Gestaltung entzückender Ohrringe, Halsketten und mehr.
Doch die Welt der Geocoins und vor allem ihre Fans ließen sie nie los. Durch die sozialen Medien war der Kontakt zu ihr so einfach und auch intensiv wie noch nie. Zur Freude aller wird es nun zu den Gecoinfesten wieder einige neue Tsunrisebey-Coins geben.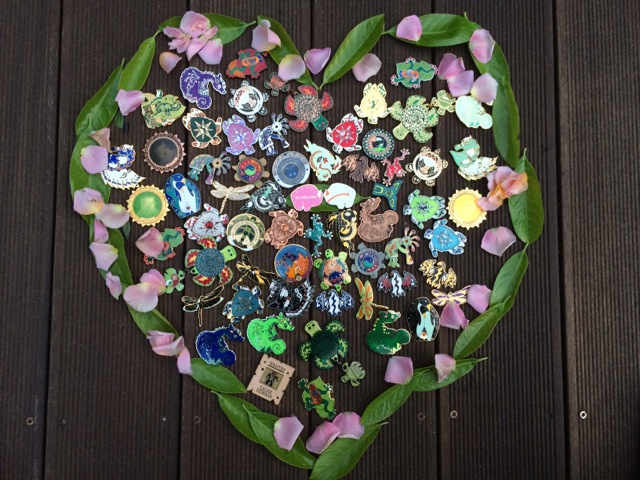 Interview mit Tsunrisebey
Stephanie war so freundlich mir einige Fragen zu beantworten:
Seit 2006 bist du begeisterte Geocacherin, 2008 hast du deine erste eigene Geocoin designt, den Geotag. Wie bist du auf die Idee gekommen?
Ich liebe die Themen der amerikanischen Natives und ich liebe auch Pferde, so war der Name eine logische Folge.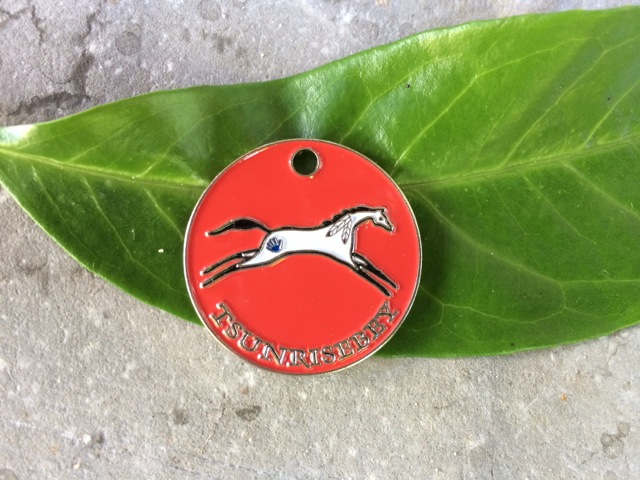 Was hat dich dazu bewegt, weitere Coins zu designen? Wie hast du das eigentlich gemacht?
 Ich war schon immer eine begeisterte Zeichnerin und als ich merkte, dass man keine große Firma braucht um Geocoins heraus zu geben, machte ich mich daran, selbst einige Designs zu entwerfen.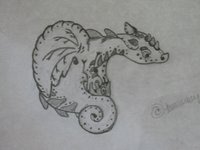 Welches ist deine eigene Lieblingscoin?
 Mein Favorit ist die Rainforest Jewel Geocoin. Als ich sie das erste mal sah, fand ich sie wunderschön und auch heute noch denke ich, dass dies eines meiner bestens Designs ist. Diese Coin ist wirklich ganz speziell.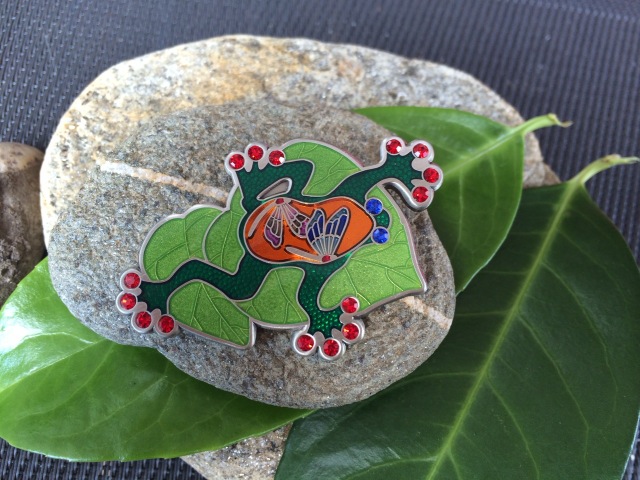 Du hast zahlreiche Charity-Auktionen durchgeführt. Warum war dies für dich wichtig?
Ich liebe Tiere und ich versuche Charity-Aktionen zu Tieren zu unterstützen. Es liegt in unserer menschlichen Verantwortung sie zu beschützen denn sie können es nicht selbst. Tiere haben keine Stimme und deshalb finde ich es wichtig, ihnen zu helfen.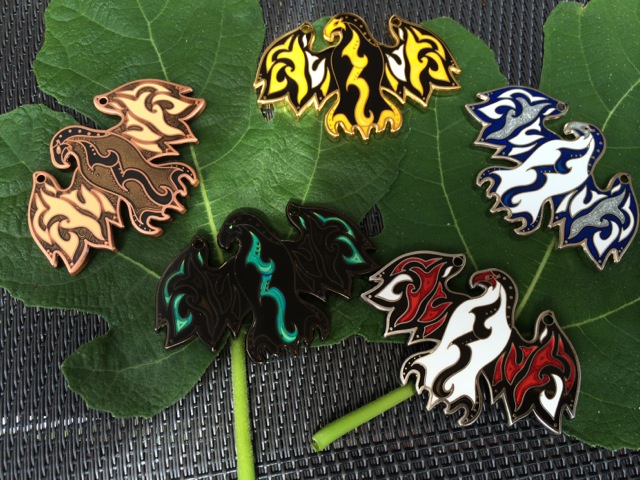 Wir freuen uns alle, dass wir zu den Geocoinfesten wieder neue Designs von dir erwarten dürfen. Was sind deine weiteren Pläne? Wirst du uns weiterhin mit deinen wunderschönen Coins erfreuen?
 Ich hoffe, dass ich in Zukunft mehr Geocoins designen kann. Ich arbeite Vollzeit und deshalb ist es so schwierig, die Zeit zu finden um Coins zu entwerfen und zu verkaufen. 2015 wird sich jemand um meine Versandgeschäfte kümern, so dass ich wohl Zeit erübrigen kann um mehr Designs verfügbar zu haben. Ich würde gerne auch mein Geschäft um anderes erweitern und deshalb weiß ich noch nicht, was die Zukunft bringen wird. 🙂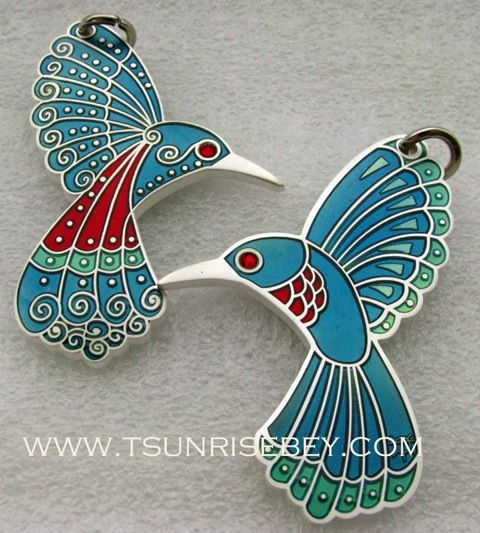 Vielen Dank Stephanie, für das Interview! Ich hoffe sehr, dass du weitere Geocoins designst, denn du bis für mich die größte Designerin! 🙂
Ich danke dir dafür und bedanke mich auch bei der deutschen Geocoin Community dafür, dass sie mich und meine Coindesigns unterstützt hat!
---

Tsunrisebey Geocoins- beautiful colours and messages of the heart
by Ursula Grass (Wuselelfe)
Many geocachers are not only hunting treasures in cans. They are immersed in the world of Geocoins, a world of colorful coins and medals, which haven't longer their their original purpose, namely to travel from can to can.
While one is interested in Piratencoins, the next is busy to collect as many owls and turtles as possible. Coindesigners give metals a form and make it colorful, glowing, classy, glittering, smart- short, according to their own imagination. Many artists have already brought it here to gain international recognition and hardly appears a coin, the Coinerwelt tears to their possession.
A very special person in this world of colorful metals is originally from Montana Stephanie Witham alias Tsunrisebey. Especially their art works also I am particularly expire because their coins bear almost all very special stories and messages. Detailed, intricate patterns and delicate messages adorn the shimmering harmonic Geocoins of Tsunrisebey.
Certain themes run throughout her work: the appeal to the responsibility towards nature and the earth, which they particularly expressed through their various Earth-Turtles. "We do not inherit the earth from our ancestors, we borrow it from our children", so it urges Cacherwelt. Again and again calls on them especially carefully deal when geocaching with the treasures of the earth. When you look at these coins you recognizes subtle symbols such as the Yin and Yang sign, sun and moon, stars and flowers. Tsunrisebey plays with special structures of the metals, which impart an intense and luminous look through the transparent colors coins.
Looking for the history of their Geocoins I came again and again on a very engaging personality, which favor various charity projects donated periodically their coins. This is especially true on the Merlin's Falcon Geocoin with which they supported a falcon breeding center, the Lucky Koi "You rock it" with donations for a "Boys and Girls Club" and also Tatanka Pejula "Soldier" Edition favor of the troops . As an aid in the Japan-New Zealand crisis, she developed a "One of a child Earth Turtle, which only was available for an extreme bid.. For the use of the money she asked geocachers in New Zealand and Japan for a good project.
Central motifs of the Tsun-coins come from the natives of the region. A notable example here is the design of Kokopelli, the front of which is decorated with ancient Indian patterns and on the back you can see a delicate Pueblo village. Her winged horse, Pegasus native, is characterized by patterns and colors of the Natives, which can also be seen in the naming of the various editions.
What really makes the Coins of Tsunrisebey so alive?
On the one hand may be due to Stephanie's love for imperfect because that's the way she is seeing the nature. Her motto is "The Perfect is the imperfection" makes their work so alive and adorable- the artworks are all drawn by hand. Vivid also makes their stories and messages. Whether it is the story of the little dragons Pax, examines the geocaches for treasures or special tasks that they ascribe certain colours of gemstones. Especially here was also Tatanka Pejula mentioned, a coin which is not trackable. Tsun borrows the shape of the white buffalo, as well as the message that is attributed to the sacred animal for the native Indians. The white buffalo is inherent in a particularly strong medicine that will make them strong and heal. The reverse of this coin bears a special message "le mita cola my friend". It is the coin with the strongest message and Tsun writes: Anyone who receives such a Coin, knows that he is something special for another person. Tsun hopes that the coin will never be sold but only given away or exchanged.
To the great chagrin of their fans Tsunreisebey moved in 2012 to a hiatus, at least in terms Geocoins back.
Sephanie was looking for a new focal point in the range of jewelery and started designing adorable earrings, necklaces and more.
But the world of Geocoins and especially their fans, never let her go. Through social media, the contact with her was so easy and intense than ever before. To the delight of all, there will now be some new Tsunrisebey coins to the GCFs at Houston and Ulm.
Stephanie was kind enough to answer me some questions:
Since 2006, you are an enthusiastic geocacher, 2008 you designed your first own Geocoin, the geotag. How did you get that idea?
I love Native American themes and I love horses, so it was a natural fit.
What made ​​you decide to design more coins? How did you do that anyway?
I've always loved to draw and when I realized that you didn't need to be a big company to mint geocoins, I decided I was going to mint some designs on my own.
What is your own favourite Coin?
The Rainforest Jewel is probably my favorite. I thought it was beautiful the first time I saw it and even today, I still think it is one of my best designs. There is something very special about that coin.

You have performed numerous charity auctions with your coins. Why was this important for you?
I love animals and I try to support animal charities. It is our responsibility as humans to protect those that cannot protect themselves. Animals do not have a voice so I feel it is important to help them.
We are all excited that we can again expect new designs from you to the GCFs. What are your future plans? Will you continue to delight us with your beautiful coins?
I hope to do some more geocoin designs in the future. I work full time so it is difficult to find time to do all the work that designing and selling a geocoin requires. In 2015, I am going to have someone take over my shipping process so that should free up some time to get more designs available. I would like to expand my business other than geocoins so I'm not sure what the future holds. 🙂
Thank you Stephanie, for the interview! I really hope that you will continue in Coindesign because you are the greatest desginer for me! 🙂
Thank you and thank you to the German geocoin community for supporting me and my designs!