Die Mietzecacherin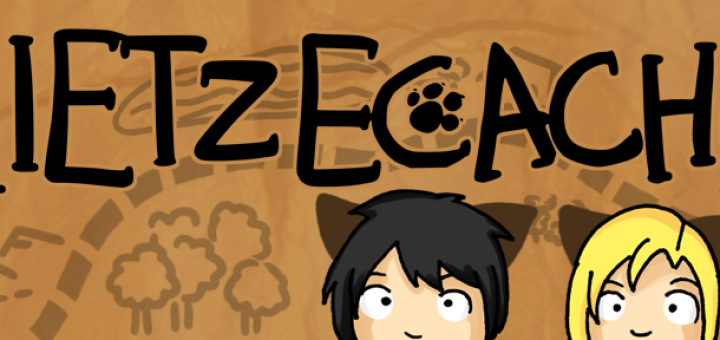 "Mietzecacher" online
Since July 2012 the Blog  Die Mietzecacher is online. Here you can read about the little geocaching adventures of "Kitty Maggy" and her "Tomcat Andy". You can meet both at Events and you will recognize them at the cute little self-made cat-ears. While Maggy prefers heavy Mystery-Geocaches Andy loves the T5 adventures.

Comic Stripes
Many of their funny and exiting adventurs are drawn in little Comics by "Mietzecacherin" . The first publish of such a comic was in 2011 in the Geocaching Blog Franken.

Meanwhile there are about 50 little comic-stripes, each of them with the topic "Geocaching"
Talent of drawing
But the 25 year old young lady, who has finished her studies in december 2014, has got more talents than only drawing comics. By the way she has become one of the famous coin-designers of Germany, too, while she is likes always staying in the background modestly. She started a few years ago by designing Avatars for geocaching-stamps. Meanwhile she has got a lot of customers who let design their artworks for personal tokens from Maggy.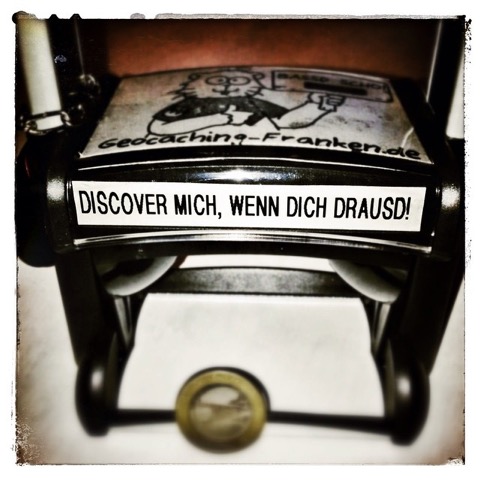 Of course the bigger shops have discovered her great talent too and she is designing geocoins for several shops. Her desings are showing a great diversity starting with cute little comic-cats

coming over to Skulls and DevilzWalls. Inbelievable that these are the designs of this young woman behind the standing lines at the stands during Events.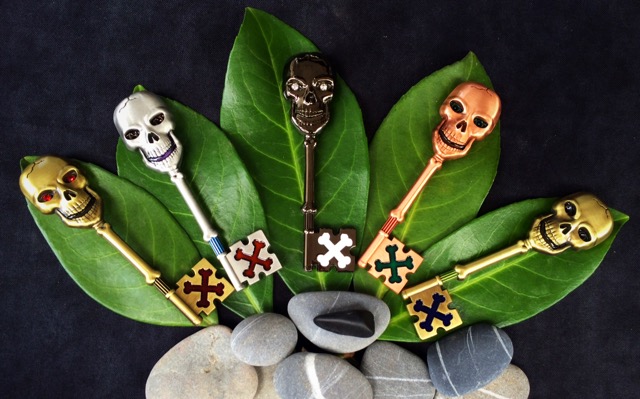 Interview with Maggy, the "Mietze"
What's on with the big talent of Maggy and how much times it is taking?
I'm glad that she was so kind to make an interview with me.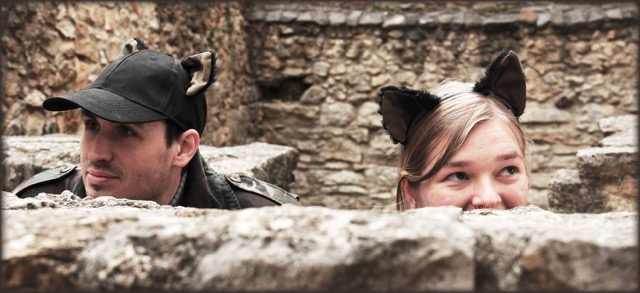 How did you find your logo and nickname "Mietzecacherin"?
I know, you're collecting rare, older cat geocoins.
Since I met my boyfriend Andy, I like cats. He has a big faible for cats and to dogs too and he has infected me with this animal love. When we read about geocaching in the internet and on TV, our nickname was born immediately "Mietzecacher". So our trademark was born. When I recognized how many beautiful geocoins with cats, little kitties, are still there I felt in love with coins.

When did you discover your talent for drawing?
 It already started in my childhood. Because I didn't hid myself behind Game Consols and WI , I was sitting on my little table and occupied myself with drawing and tinkerin. When I visited school I started to draw Mangas, in was very "in" at that time. I bought my first book with lessons to learn drawing. Since that moment I knew why the lines in the exercise books have got white spaces at the edge ;-).
Since that time I'm used to draw whereever I am. I used online turtorials to improve my drawings. The best exercises are the orders of my customers because it's damned heavy to show the charackter of a person in a sketch.
How did you get the idea with your comics?
Like every good idea it just happened. During nightcaching the story with the cat happened and when we returned to the car I thought it would be a funny comic.
After sleeping a night I made my first comic "Stage 1". Geocachig`n Franken Forum liked it, this gave me the motivation to draw more comics. In 2012 I made our own Blog.
How was your first Geocoin "born"?
I started with participation at a Geocoin-Designer-contest. With the design of Zodiac Clock Geocoin I even won this contest.
But for a while nothing more happened. But I already had the fever to make Geocoins. Because I admired Claudia and MyGeocoin and her designs I sent her a few of my designs and sketches. I was happy that she wanted to make a coin with me, we started with "Lucky Coin" for New Year. There were a lot of sketches sent to each other but finally at the end of 2012 I could hold "Good Luck! Geocoin! in my hands. Claudia was so kind to name the little pig after me 😉 "Maggy".
At the same time Ernie has seen our Avatar and he send me an email to ask me if I want to make a coin with him. So Nixie Geocoin was born.
How long does it take to design a coin and the artworks?
I can't give a general answer. One coin is designed quicker than the other. Meanwhile I've got routine, when there is a concret idea with sketches the artworks can be ready within a few hours. But last not least a coin needs several weeks because you can't force a good idea. You can start to draw- but you need tohave the spirit for a real good idea and this happens often when you don't think of it.
What do you like most during desinging coins?
The biggest fun is while imagening and sketching, when I can make experiments with the design. And the absolut highlight of course is holding the first samples in the hands. Each time I'm excited when an artwork is at the factory. The more time I needed for it the more I'm excited: to see if they could realize my ideas. You can't imagine what can go wrong there!
How many coins did you already design and which coin is your favortite?
I could see at the s.s.o.c.a. Wiki that there are meanwhile 35 coins that I've designed. You can add several coins where I helped with the design. For example the Fire-Rock guitar( I made new flames) or the Big Äppl Geocoin ( I helped on the backsite).
My favorite coin until now is the Cosmolabe Geocoin. Not only because it was of my first coins, but also because it is a very special coin with all her movable parts.
Which program do you use?
I'm working with two programs. I use an older version of Photoshop fort he pixel grafics and Corel Draw for the VecotorGrafics. Very helpful is my grafic tablet. I connect it with USB, it transfers all the lines to my PC. The top oft the pen is made of plastic and it can     "feel" how much I'm pressing on it. So the transfer of thicker and thinner lines to the PC is working.
Why don't you make yourself independ with your talents?
Ok, I'm a little bit independetly. But the designing is not my main occupation. I don't want to give up my main occupation because I've got a lot of work to do as an engineer. Drawing and designing is my by and good compensation. I don't want to destroy that..
Is there something about you're very proud? Auf was bist du besonders stolz?
Even if this did not happen during Geocaching I'm proud that I could win a special designer contest in 2011. It's the design of a Beer Mug for the "Nürnberger Volksfest 2011". My design was printed on 1700 beer mugs and on the flyers too.
And I'm still proud of my first geocoins, because I still like "GoodLuck" andNixieGeocoin. And I'm always proud when there is a special auction around my coins like it was at Xanten with my "Heldenlegion coins".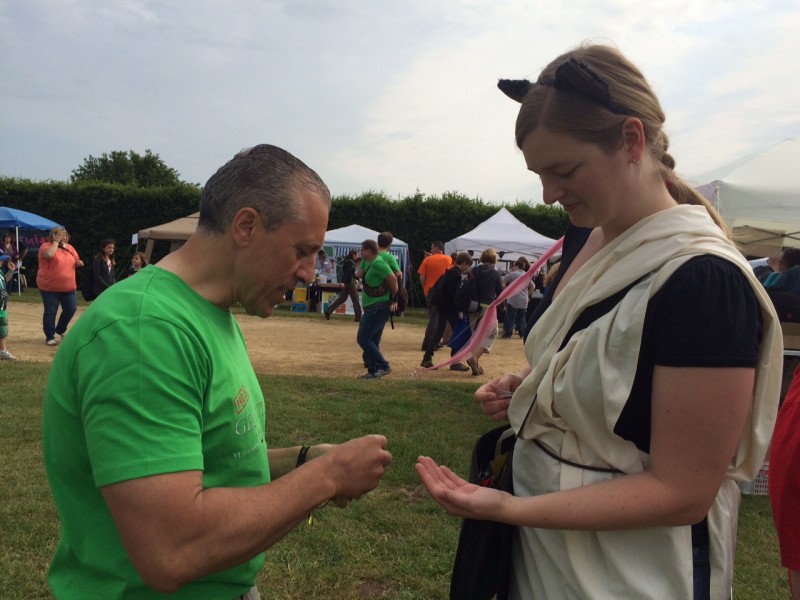 Are you still geocaching?

Of course I do- But not so often like in the beginning because we're trying some new hobbies, like Ingress. But we still are geocaching and we like to visit Events. But meanwhile we are choosy.
Big talent and wonderful person
Thank you so much for this interview, Maggy. Even if I'm knowing "Mietze" since a longer time it was exciting and varied to write this article.
I'm admiring her big talent and I like that she is always timide, kind and helpful. The future will bring big tasks for her.
She already has got two orders to design for Mega-Event-Coins next year- it won't stay the last!
In the name of the S.S.O.C.A  many thanks to Wuselelfe for the great interview and introduction to Maggy "The Mietze"!
If interested you can see the german version here.